Plus a BONUS gift guide for under 1 year!
Tis the season for giving! If you're anything like me, you've barely thought about what to gift your kiddos for Christmas until after Halloween. I have always been the worst at planning ahead and getting gifts throughout the year. I wait until after Thanksgiving most years to even start thinking about what to get. As the kids get older, it gets much harder to come up with gift ideas. So I created a gift guide for several ages! A lot of these are geared toward open-ended play or a Montessori approach, but there is still something for everyone!
This specific gift guide is for ages 1-3 but I did include a little guide for those under 1, which is a compilation of gifts we gave Ellis last year for Christmas. I love getting ideas from others on gift ideas because let's be real, we can't always think of everything ourselves!
Our daycare has these Magnatiles and our 1 year old is OBSESSED with them! They're great for kids of all ages because they're an open ended toy. You can do so much with them and create an abundance of things! I know my 7 year old likes to play with them when she goes to daycare too! This is definitely something we'll be gifting to Ellis this year.
2. Mega Blocks
These are an introduction to LEGOS, but without the choking hazard. These are also great to build with and for kids to use their imagination. They're big enough for small kids to not have to have great coordination, but also great for those who have great coordination!
These are all the rage right now! It's like a couch and a fort and everything in between. This will probably be the gift of the season this year. Nuggets cost a pretty penny, but for everyone who has one will tell you that they're 100% worth it!
KidKraft makes a great durable play kitchen. We've had ours for about 4 years now and it has moved twice with us! This was our older kids Christmas gift and it was well received. It's really bottom heavy so not much worry about it falling over and it lasts for years and years!
This is on Ellis's wishlist this year! I've heard great things about these and the best part is that there is little to no mess! They "paint" with water only and you can reuse them over and over again.
I personally think a table and chair set for kids is a staple in every household. They're great for crafts, snacks and if you have friends over who have kids, you can have them all at one table and have the adults at another table. There are some great options on the market right now, but a wooden set is timeless and durable. We had a plastic set years ago but I wouldn't recommend it. Two of our chairs broke and were pretty flimsy.
This Melissa & Doug cleaning set is super popular right now. Kids like to mimic what Mom and Dad are doing, so what's better than to get them their own set that they can help "clean" up with too!
At 16 months, Ellis is really into watching what we're doing in the kitchen. Even Evelyn, our 7 year old, really enjoys helping in the kitchen and while she can see over the counter, a stool is still really helpful to have for when she wants to get her hands dirty. The helper stool has four sides so the risk of falling drops tremendously. It'll put your mind at ease when your littles want to help you in the kitchen!
I know a few moms who have these food trucks for their littles and they love them! This could be a gift in place of a toy kitchen, I definitely wouldn't think you'd need both, but feel free!
If you've got more than one kiddo in this age range then I think having a grocery cart and/or basket would be a great addition to your kitchen or food truck! Playing store is such a fun and creative way to play! They have so many options, you shouldn't have a problem finding one in your budget.
This is kind of a necessity but not everyone goes for a potty chair. We prefer ones that go over the toilet vs having a stand alone potty. We really liked this portable/foldable over the seat potty for Evelyn and we'll use the same one for Ellis, too!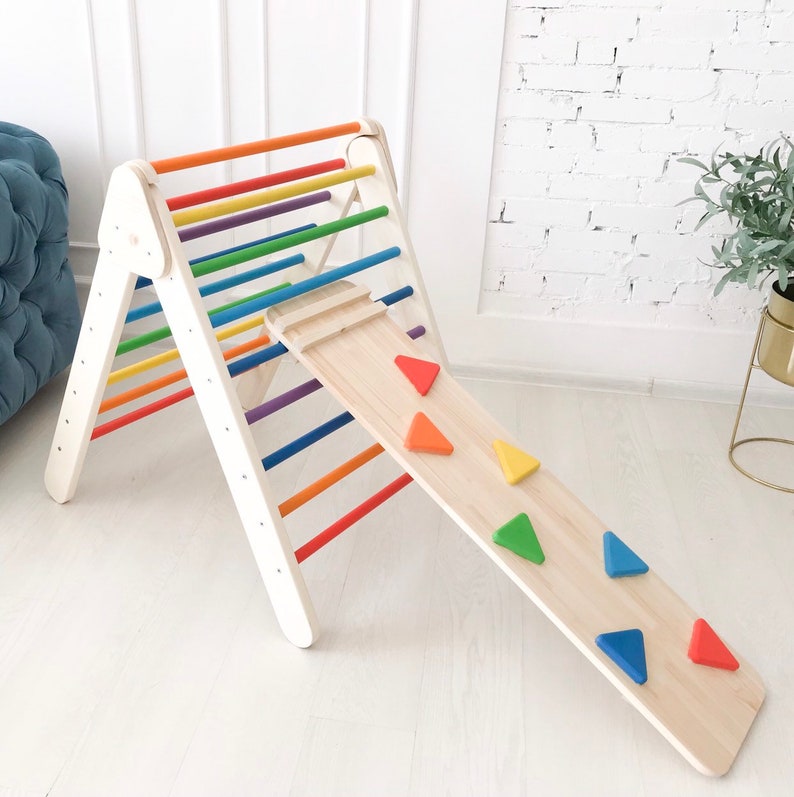 The Pikler Triangle is another great open ended "toy". Kids can use their imagination, create forts and climb all over the Pikler Triangle. If you've got a handyman (or woman) in your family, you may be able to build one yourself. There are tons of instructions online for building your own.
This is great for the Mr./Mrs. Fix It in your world! This wooden toolset is aestetically pleasing and will last for a long time!
Lincoln Logs are a classic kids toy. Building log cabins, stores, houses, or a castle! The creativity is endless with Lincoln Logs. Our 10 year old would still play with these so they're a great gift for kids of all ages and will last for many years.
This is another item on Ellis' wishlist this year. Once again we have an open ended toy that lets your kids imagination soar! From building houses to using them to create roads for cars, another toy to last you (and your kids) a very long time.
Shape sorters are great learning tools for kids. You can use them to count, learn shapes, colors and cause/effect.
When I saw this for the first time, I was really intrigued. Kids can use these with or without the tweezers. You can count them, learn shapes and the tweezers are great for fine motor skills and hand-eye coordination.
If you're getting a kitchen, food truck and/or a grocery cart, play food is a must have! I can't even begin to tell you how many fake cheeseburgers I've eaten over the years. But hey, at least they're 0 calories 😉
Ellis got one of these for her first birthday. We live in Minnesota so it's a shame that we can't use this year round, but every day she could play with it, she was right in there. Evelyn also loved playing in this with her so this will grow with your kids too.
Last, but not least we have the sorting bears. I think this will be a great stocking stuffer for Ellis. Much like the shape sorter and the beehive, you can use these to count, learn colors and sort/categorize. I can see her playing with these for many years.
BONUS! Under 1 Gift Ideas
Last year when Ellis was only 5 months old for Christmas, we didn't want to get her a bunch of "junk" or toys that she wouldn't enjoy or use. This was a great time for us to get her stuff that she actually needed and we weren't wasting our money on gifts that she would never use. Since our older kids still believed in Santa, we still had to get her some things from the big man to keep the magic alive. This was all of the stuff we were going to buy or need to buy at some point anyway, so we just waited until Christmas to actually get them.
High chair (for infants up to age 1)
Sippy cups
Eating utensils
Bibs
Clothes for the next year
Diapers
Wipes
Books
Convertible Car Seat
We love to make Amazon Wishlists so that we can share with family members and let them know what our kids would love and enjoy. This helps take out the guess work for them and lets us keep track of our kids gifts. It eliminates duplicates as well if family follows your wishlist. Is there any must-have gift ideas that I missed? I would love to hear what is on your kids wishlist!