Tis the season for giving! If you're anything like me, you've barely thought about what to gift your kiddos for Christmas until after Halloween. I have always been the worst at planning ahead and getting gifts throughout the year. I wait until after Thanksgiving most years to even start thinking about what to get. As the kids get older, it gets much harder to come up with gift ideas. So I created a gift guide for several ages! Here's the link for the ULTIMATE Gift Guide for ages 1-3 which is mostly Montessori based.
This specific gift guide is geared toward ages 4-7. I did include "unisex" and "boy/girl" and I use those terms loosely because if your boy wants some nail polish and your girl loves Nerf guns then by all means! I've always taught my kids that there are no "boy" and "girl" things, but I know not everyone thinks that way, which is okay too!
Unisex
This is really going to depend on what they're into at their age. Evelyn, our 7 year old, really enjoys doing the more challenging ones that take a bit longer and have smaller spaces to color.
This paint set is the perfect gift for the little artist in your world! Pair it with a good paint brush set and some paper or canvas and your artist can create anything they wish.
We gifted one of these for Emmit when he was around 7 years old because he loved to draw. Evelyn is truly our little artist and she's used it a few times to learn how to draw certain things. It's great for beginners through intermediate artists. Bicycle
Evelyn was gifted roller skates for her birthday this year and I came across these 2-in-1 skates that can either be roller skates or blades, turning your traditional roller skates into inline skates. They also grow with her and adjust in size as well. They were fairly easy to switch to and from inline back to regular skates. I highly recommend!
Both of my kids have Globber scooters. Evelyn has a 3 wheeler that has 2 wheels in front and one in the back and Emmit has a traditional 2 wheeler. They're amazing quality and make great gifts!
6. Puzzles
Kids (and adults!) of all ages LOVE puzzles. There are so many options of difficulty and themes to choose from!
7. Legos
My kids have always been obsessed with LEGOs. They have so many different types of sets now, your kids could never get bored! Of course you could go with just traditional pieces to keep the creativity of LEGOs alive, but we've always really liked the pre-made sets.
Playdoh is a great gift option (and stocking stuffer!) for this age range. You could gt a big set with a bunch of accessories, or just get small ones and stuff those stockings. We gifted Evelyn a huge set of play doh with a bunch of different accessories and she still plays with it years later.
9. Board Games
We try to get our kids a new board game just about every year. We have SO many of them, but they're so much fun! It's a great way to spend time as a family and gets the kids away from electronics for a while. Our favorites are Trouble, Sorry!, Guess Who?, and Candy Land.
10. Bicycle
At this age range, it might be time for a new bike! Maybe they outgrew their toddler bike or they've never had one. We've gifted them for birthdays in the past, but solely because we live in a cold climate and who wants to get a Christmas gift you can't use right away??
Girls
Evelyn has a couple of these from Christmas and birthdays and she loves creating with them! There are so many options for types of bracelets, your little will never get bored. They have charms, braids, beads, and loom bracelets too!Ceramic painting set
There are also a ton of options when it comes to ceramic paint sets. Evelyn has painted a few different animals and a whole tea set too! These can keep your creative little busy for hours!
3. Nail polish
Nail polish has always been a huge hit at our house. Of course I have my own, but Evelyn is always excited to get some new polish of her own in her stocking too!
4. Barbies
This might be a no brainer to some, but if you've never explored Barbies with your littles, they make great gifts! Barbie has expanded so much to be so inclusive of just about anyone, you really can't go wrong.
5. American Girl/Our Generation Doll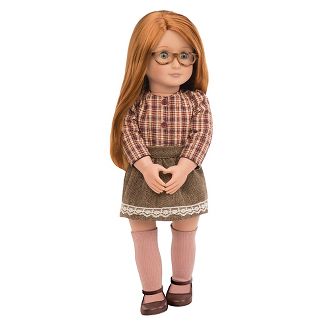 Most girls in this age range will NOT know the difference between a "real" American Girl doll or the "knock-off" Our Generation doll from Target. They're less than half the price of American Girl dolls and just as cute with just as many accessories. Evelyn has an Our Generation doll and she still thinks it's a "real" American Girl doll. These make GREAT gifts!
6. Purse
Little girls love to be just like their mama. I know both of my girls have always loved wearing my purse or playing with my purses.
They make these super cute microphones now that you sync to your phone for karaoke! No more giant karaoke machine that you need to find a place to store. Evelyn has a karaoke machine and I would love if she had this instead.
Flip sequin is all the rage right now! Evelyn has this super cute unicorn pillow that she got for Christmas a couple of years ago. It's a great decorative pillow and a "fidget" toy in one!
What little girl doesn't want to be a mermaid?! Evelyn has a mermaid tail blanket that she sleeps with just about every night. It keeps her warm and she can't kick it off of her very easily at night either!
Evelyn asked for a big Hatchimal for a few years before she actually got one. They're interactive toys that your child can take care of. They need to be played with, fed, and put to sleep. She really loves hers!
Boys
I could not tell you how many Nerf guns Emmit has had over the years. I think a Nerf gun was on his wishlist for both birthday and Christmas for 5 years in a row. He still has some at 10 years old and enjoys having Nerf wars with his sister and dad too!Sling shot
2. Sling Shot
This is a class "boys" toy. Great for outdoor play!
If you've got a kiddo who's interested in sports or specifically basketball, a basketball hoop is a great gift! You could get one for indoors or an outdoor hoop is great too! Emmit has had an over the door basketball hoop for several years. He still enjoys playing with it as well as going outside to play basketball when it's nice out too!
4. Walkie Talkies
Both of my kids have enjoyed playing with walkie talkies. Even I enjoyed playing with them as kids. It's such a great toy for kids who have siblings or friends who visit frequently. The imagination can run wild with walkie talkies!
If your little is struggling to come up with things to build with the LEGOs they currently have, this book is a great gift option! With over 500 ideas, you're sure to get those creative juices flowing.
Archery set is a great gift idea for the kid who has a hunter figure in their life! Spark their interest in archery with this cute set!
Much like LEGOs, K'nex makes generic sets or if they're into building specific things, they have sets for that too!
Emmit was obsessed with Beyblades for a long time. He liked getting these in his stocking and battling them to see which one would win. These are a major hit for the boy who loves to watch things crash!
9. Beginners Chess Set
Around 5-6 years old, Emmit got into playing chess. We found a chess set that came with cards to help him (and us!) learn the moves of the game and assist with strategy. Now at 10 years old, he can beat both of us!
If you've got a little who loves fishing with Dad or Grandpa, this is the perfect gift! They make character poles, close faced, or open faced poles. We've always loved going fishing as a family and still do. Our kids typically got their first poles around 4 years old, it's a great time to start!
Did I miss anything that your little has on their wishlist? I would love to hear what you're getting your kids for Christmas this year! Happy Holidays!